I first discovered, over 20 years ago, the wonderful world of Pleats Please by Issey Miyake, at my favourite clothes shop,
The Changing Room
, in St. Christopher's Place.
I was looking for something to wear for a wedding, and was recommended to try on a silver grey Pleats Please outfit, by the Japanese designer, Issey Miyake. That was the beginning of my relationship with these fascinating and addictive clothes. It was a tentative beginning, everything about these garments felt so different from anything I had worn before. I was a little nervous, but made my purchase, and wore it for the wedding, feeling a little self-conscious among all the other more traditionally attired guests. The Pleats then hung in my wardrobe for several months, though I would take them out occasionally, fascinated, but not sure I would have the courage to wear them again. After a few months, however, I was tempted to buy a couple of simple tops, and even a pair of trousers, all in this wonderfully lightweight silky pleated material. I was hooked!
These clothes, while always moving with the body, nevertheless seem to possess a life of their own. I think, on reflection, that, unconsciously, I was responding intuitively to a fluidity of movement which I was always seeking in my piano playing. There was nothing fixed or restricted, everything was movement.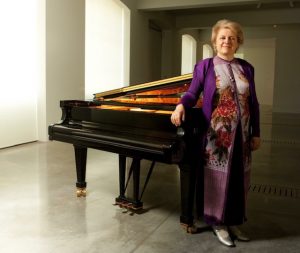 As the years went by, under the expert guidance of Chris and Maria in The Changing Room, I amassed quite a collection of Miyake. I became something of a collector. It was my one big extravagance.
And then, shortly after my 60th birthday, my life changed dramatically, when I lost most of my sight, due to haemorrhages behind the retinas of both eyes. I was now living in a monochrome world, it was like seeing everything through a thick fog. The only colour which penetrated this distorted grey and shadowy world was red. Some other colours I could 'see' closeup, but in a kind of haze.
However, I soon made the joyous discovery that I could still experience the vivid intensity of my Miyake Pleats Please clothes, albeit at close range. A special joy came from my collection of multi-coloured scarves, each vibrating in a wonderful and quirky combination of shades, and I found myself gazing down when wearing one, and drinking in the colours. As I was being starved of colour now in my everyday life, I was indeed drinking it in, as one gulps down water gratefully when one is thirsty. It must be something to do with the texture of the fabrics and the unique process of producing the colours that makes this possible. I don't know, but how wonderful it is to be able to still experience colour in my life. I appreciate so deeply what an energising and life-enhancing force it is.
So this is why I say, from my heart, Thank you Issey Miyake.
"Colour is a power that influences the soul"
- Vassily Kandinsky
Postscript. I visited The Changing Room to cheer myself up soon after my sight loss, and, having chosen a top, with the expert help of Maria, I then drew out a jacket and said to her, "I think these work well together." Maria looked at me in astonishment and said: "How did you do that? Most of my customers could not have known to put those two colours together." I had done it without thinking, and I realised at that moment that I was somehow sensing the vibrations of the colours, and putting them together as one puts notes together to make harmonies. I had discovered synesthesia! I felt wonderful, and newly empowered, as I walked out of the shop with my precious purchases.